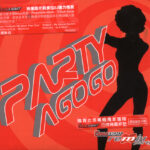 Title: COORS LIGHT – PARTY AGOGO
Label: High Note Records
Catalog#: HN192CD
Format: 1CD, Compilation
Released: 16 July 2004
Genre: Electronic
In 2004, the most important dance music label in the Chinese world – Hight Note Records brings you the first of it's kind dance music compilation. This compilation consists high quality tracks from international well-known artists such as: Gus Gus, Darren Emerson, Adam Freeland, Paul Jackson, Redanka, Infusion, Christian Cambas & Mark Wheawill and also showcases some extremely talented Chinese producers, such as: Lim Giong – God Father of electronic dance music from Taiwan, Tszpun – Progressive House pioneer from Hong Kong, and Rez who comes from well-known rock band 1976 and many others. It's this East meets West theme that creates a sonic communication between dance music producers from around the globe and brings electronic dance music to a higher level.
Track Listing
01. Mankind [Lim Giong]
02. My Secret Garden [Tszpun]
03. It Scares Me [Christian Cambas] [Original Mix]
04. Meng Mei Yi Qiu [Ray Kai]
05. Transition [Mark Wheawill] [Future House Mix]
06. No.5 [REz] [Dirty-One Mix]
07. Control Mind [Kin]
08. In A State [Redanka] [Fucked Vocal Mix]
09. We Want Your Soul [Freeland] [Infusion Remix]
10. The Way We Do It [Paul Jackson]
11. Longing [Random House Project & Robert Owens] [Darren Emerson Mix]
12. David [Gus Gus] [Tim Deluxe Remixed]
13. Knockdown [DJ SL]
14. Zonic [Teoh]